Data analytics and proactive suggestions. Data from IoT will be processed to study grow patterns, preference and operational techniques to suggest best suited plant for cultivation, on-time seed supply reminders, other techniques to improve efficiency and many more!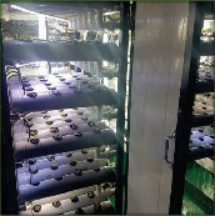 Indoor Farming Compact Machine
The compact machines enables user to have their own cultivation at their place of convenience. The machine can be in terraces, lawns, miniaturized sizes that support 50 plants can be in kitchens.
Round the year plant growth with no constraints on climate, location or soil supportability.
Can be used to grow off season crops or exotic plants.
Indoor Farming Factory
Futuristic model of farming that involves soil-less organic farming techniques with high yield per unit area as compared to the traditional methods. The farm is inside the cold room with automated sensors controlling all the parameters of plant growth.
Multi-crop cultivation within the same room or cultivation in different rooms with a single-crop-per-room
Protected environment farm Automation
Accessories and Other systems
These systems are compatible with our controllers and also work as standalone products
Fertigation System
Dosing pumps (3 parts, 4 parts) 1.2 lpm capacity
IoT module
Ambient sensor kit (Temp, RH, CO2)
Soil sensor (Temp, RH, Salinity)
Complete Greenhouse / Indoor Farm automation
Turnkey project as per the customer requirement
Fully automatic control system with integrated IoT gateway for remote monitoring and data analytics
Ultrasonic industrial humidifier for adjusting the humidity levels inside the mushroom farm
Duct type ventilation damper system for providing fresh air and removing carbon dioxide from inside the mushroom farms